Call for Speakers & Papers: ECF2022-12th Asia-Pacific Shale & Unconventional Resources Summit
Share Yours at the Energy China Forum 2022 -12th Asia-Pacific Shale & Unconventional Resources Summit.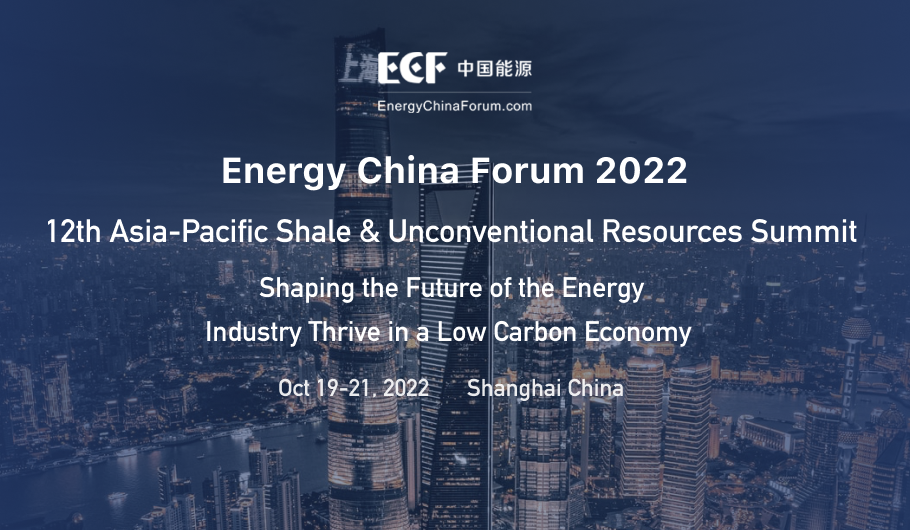 Website: http://2022.energychinaforum.com
Oct 19-21, 2022
The Whole Shale Industry Chain Meets at ECF2022 in Shanghai, China
With the theme "Shaping the Future of the Energy, Thrive in a Low Carbon Economy", Energy China Forum 2022 12th Asia-Pacific Shale & Unconventional Resources Summit would be held on Oct 19-21, 2022 in Shanghai China.
Starting in 2011, Energy China Forum has held the Asia-Pacific Shale & Unconventional Resources Summit every October in Shanghai, which has become the most active and important event for professionals of the unconventional industry. ECF2022 will highlight how the shale & unconventional resources industry continue to thrive as it ensures national energy security and transitions into a lower carbon world.
In ECF2022 Summit period, Hydraulic Fracturing Technology Sub-Forum will be held on Oct 20, 2022 whold day. (More about Hydraulic Fracturing Technology Sub-Forum, pls visit: http://en.energychinaforum.com/meeting/detail/272.html )
Prospective authors are invited to submit paper abstracts along with the speaker CV and contact info. The best papers will be chosen by the ECF2022 committee to be presented at the conference.
We appreciate your interest and welcome your submission. We reserve the right to review and accept only those presentations suitable for the programs. Submitters will be contacted individually about their submission, accepted or not. We reserve the right to request or make last minute changes to any program. Speakers that do not comply by given deadlines will be removed from the program.
Deadline to Submit:
Jul 31, 2022
Topic
ECF2022 will feature international speakers who will discuss the advanced technologies, viewpoints and project case studies from around the world. Topics include but are not limited to:
MAIN TOPIC of ECF2022 (OCT 19-21, 2022)

Public Affairs
1. Top View: China's 14th Five Year Plan for Energy, Oil and Gas and Future Policy Design
2. Shale & Unconventional Resources Development Strategy under "Carbon Peak" & "Carbon Neutrality" Policy
3. New Policies for Private Enterprises and Global Players to Invest in China's Shale Industry and Upstream Industries
4. Case Studies : Private Enterprises and Global Players in China's shale and Unconventional Resrouces Industry
5. Shale Oil & Gas Update in North America and Opportunity for China
6. Unconventional Oil and Gas Development and Demand in East and Southeast Asia
Shale Industry Chain
1. New Technologies for Shale (Tight) Oil & Gas Resource Assessment and Reservoir Exploration
2. Practices and Challenges of Integrated Shale (Tight) Oil& Gas Services
3. Drilling and Completions Technology Innovations
4. Digital Energy: Smart Fracturing System and Method Smart Drilling Technologies and Digitize Oil Field Operations
5. Green, low-carbon and Environmental-friendly Technology of Shale (Tight) Oil and Gas
6. New Technology & Equipment for Reservoir Development & Production Enhancement
7. Application of CCS/CCUS Technology in Oil and Gas Fields and Enhanced Oil Recovery, Reservoir Monitoring and Risk Assessment Technology, Case Studies
8. The Best Practices for Transporting, Storing, and Disposing Fracking Waste & Recycling Technology
9. New Technology and High-efficiency Equipment for Hydraulic Fracturings
10. Environmental-friendly Oilfield Chemical Applications in Drilling Completion & Fracturings
11. New Application of Oil & Gas Field Technology in Geothermal Energy, Energy Storage and Other New Energy Markets
Please contact us if you are willing to communicate and share with all other ECF participants!: Call: (86) -21-54383583 or Email: ecf@energychinaforum.com.
More Event Information:
Please browse our website for more event introduction and updates at http://2022.EnergyChinaForum.com
Disclaimer: The above content was edited by Energy China Forum (www.energychinaforum.com), please contact ECF before reproduce.