PetroChina's Clean Energy Layout is Initially Completed
In 2021, on the premise of ensuring energy supply and ensuring national energy security, PetroChina sought a breakthrough in the field of clean energy, realized a new pattern of coordinated development of "oil, gas, heat, electricity and hydrogen", increased the development and utilization capacity of new energy by 3.45 million tons of standard coal, and the total capacity was close to 7 million tons of standard coal / year, a record high.
Hydrogen energy
The hydrogenation station in the service area of Zhangjiakou Prince City, located in Chongli competition area of Beijing Winter Olympic Games, was put into operation in February 2021. "Behind the construction of hydrogenation station is a hydrogen supply chain built by PetroChina." Qin yuan, head of chonglibei comprehensive energy new image station of PetroChina Hebei sales company, said that the front end is a batch of hydrogenation stations and comprehensive energy stations in Beijing and Hebei, which have been put into operation successively, and the back end is a 500 standard cubic meter / hour by-product hydrogen purification unit built and put into operation by Huabei Petrochemical, which can produce 4750 kg to 5500 kg of hydrogen with a purity of nearly 100% at full capacity every day, Provide services for nearly 1000 hydrogen fuel cell vehicles.
Chen Mingzhuo, deputy general manager of PetroChina development planning department, introduced that PetroChina has built 8 hydrogenation stations, 6 power exchange stations and 3 comprehensive energy service stations in Beijing, Hebei and Chongqing, and deployed 19 hydrogen purification projects in 7 regions including Bohai rim and Shaanxi Gansu Ningxia, with an annual hydrogen production capacity of more than 2.6 million tons.
Geothermal
In the geothermal field, PetroChina has developed rapidly. Huabei Oilfield, adjacent to xiong'an new area, efficiently exploits the deep geothermal resources of the oilfield for heating in communities such as petroleum new town and Wanjin new town, and adheres to 100% non pressure reinjection in the same layer to realize the sustainable development of geothermal heating; In Liaohe Oilfield, the geothermal application project of Huansan united station of Jinzhou oil production plant is a typical geothermal industrial application demonstration project of PetroChina. 10 geothermal wells are used to replace the original water jacket heating furnace to realize clean heating.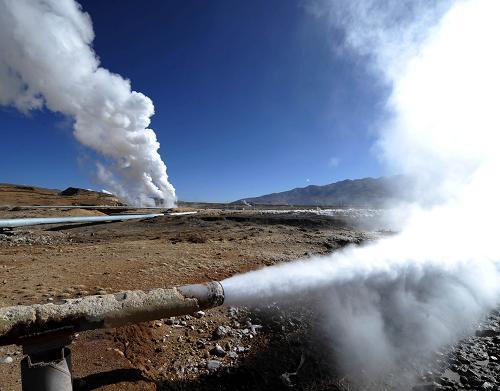 Su Chunmei, director of the new energy department of CNPC exploration and production branch, told reporters that PetroChina has actively explored the geothermal industry and increased internal clean substitution and external clean energy supply. At present, PetroChina is committed to building "three demonstration areas" of clean heating demonstration in Beijing, Tianjin and Hebei, energy substitution demonstration in Northeast China and heating and refrigeration demonstration in the Yangtze River Delta, benefiting 3.5 million people, replacing 4 million tons of standard coal and reducing about 10 million tons of carbon dioxide per year.
Photovoltaic Power Generation
December 27, 2021 is a special day for Yumen, one of the "six bases" of PetroChina's new energy business. On this day, the 200 MW photovoltaic grid connected power generation demonstration project of Yumen Oilfield was officially grid connected for power generation. This huge photovoltaic power generation base generates about 400 million kwh per year, saves about 110000 tons of standard coal, reduces about 97 tons of sulfur dioxide and 280000 tons of carbon dioxide.
This is the first photovoltaic power generation project with the largest installed capacity approved by PetroChina and the largest single grid connected photovoltaic power generation project in Gansu Province.
In November 2020, the first pilot demonstration project of comprehensive utilization of solar energy in Yumen Oilfield - Laojunmiao oil production plant pilot demonstration project of comprehensive utilization of solar energy was completed and put into operation, with an annual total power generation of 1.55 million kwh, about 1545 tons of carbon emission reduction and 626.2 tons of standard coal saving. Its successful operation is the first step towards the development of new energy business in Yumen Oilfield, and also has accumulated valuable experience for the construction of photovoltaic projects in the later stage of the oilfield.
Also in the west, the pace of green and clean development of PetroChina is accelerating. Ningxia sales company has built the first BIPV photovoltaic power generation oil and gas combined station in China. Compared with the traditional bapv photovoltaic power generation mode, it has high efficiency, long service life and low cost. There are 12 pumping stations in Tarim Oilfield to build solar photovoltaic power generation and irrigation demonstration stations to replace diesel power generation and irrigation. At present, the solar energy utilization project of Tazhong desert highway is under construction. After completion, the photoelectric pumping irrigation of 436 km desert highway will be fully covered.
Today, PetroChina's external clean power has a new installed photovoltaic capacity of 200000 kW, and 117 gas stations have carried out charging business and 91 gas stations have carried out photovoltaic power generation business
Energy China Forum is the biggest and most popular platform for shale & unconventional resources in China. Besides website, we also run a WeChat Account, which has the most followers in this area. We would love to help you to expand your market to China.

For more infromtaion about us, please check http://en.energychinaforum.com/about/ads
If you are interested, don't hesitate to contact us at ecfchina1@gmail.com or ecf@energychinaforum.com
Disclaimer: The above content was edited by Energy China Forum (www.energychinaforum.com), please contact ECF before reproduce.