China's gas demand to fall by 6-14 Bcm in 2020
China's natural gas demand could drop between 6 billion cubic meters (Bcm) and 14 Bcm this year, depending on how long it takes the government to contain the coronavirus outbreak, Wood Mackenzie said Tuesday.
According to research director Robert Sims, by the end of the first week of February, China's gas demand had fallen by 2 Bcm, mainly driven by the industrial sector.
Based on a limited resumption in economic activity, the Chinese gas demand could drop to 324 Bcm in 2020, under a "best case" post-coronavirus scenario, with recovery by April.
In a prolonged-case scenario, the post-virus demand could be as low as 316 Bcm, compared to a pre-virus outlook of 330 Bcm. The previous demand forecast was 8% higher than the 305 Bcm demand recorded in 2019, Kallanish Energy reports.
The new forecasts, which are highly variable depending on the severity of the outbreak and normalization time, suggest growth rate drops of around 4%-6% compared to 2019's gas demand.
Domestic gas production has been affected by the travel restrictions, which reduced manpower on site; but pipeline deliveries are less affected. The consulting firm estimates the domestic supply will be reduced by around 1.6-2.9 Bcm.
In terms of liquefied natural gas (LNG), Sims projects a loss in demand of 2.6 million tonnes (Mt) in the best case scenario, and 6.3 Mt in a prolonged case. LNG will bear the brunt of this reduction in domestic gas demand, he said.
In fact, the coronavirus outbreak and its impact on Chinese gas demand "could not have come at a worse time for the already oversupplied global LNG market," added Sims.
With lower demand and around 27 Mt of new supply to enter the markets this year, Sims expects "supply response" in some markets such as Egypt and potentially Eastern Australia. He notes, however, U.S. Gulf producers are the ones with the highest marginal costs and most flexibility.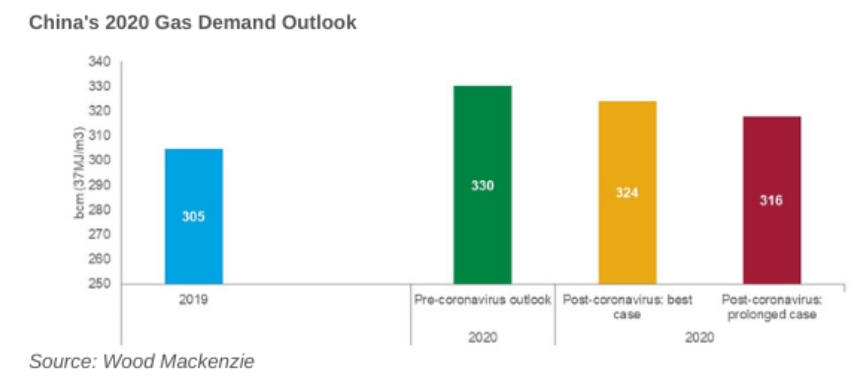 Disclaimer: The above content was edited by Energy China Forum (www.energychinaforum.com), please contact ECF before reproduce.