ECF2022 Award for Cost Reduction & Efficiency Enhancement Technology
Project:Study on Plugging & Repairing Casing Tech of High Performance Composite Materials
Company:Research Institute of Shaanxi Yanchang Petroleum (Group) Co., Ltd
Project Full Name:Study on Plugging & Repairing Casing Tech of High Performance Composite Materials
Company:Research Institute of Shaanxi Yanchang Petroleum (Group) Co., Ltd
Awarded:Cost Reduction & Efficiency Enhancement Technology
Standeard: Domestic Advanced Level
Projec Number:ECF-2022-SEP-1003
Principal Accomplishers: Gao Zhiliang, Qiao Hongjun, Liu Anbang, Nan Beibei, He Pei, Yang Hong, Zhu Rongting, Guo Qing, Mu Jingfu

pressure resistance test under simulated downhole condition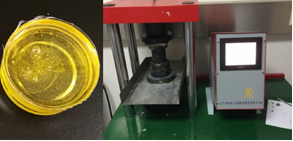 compressive strength test
Key Innovation Points:
This project has invented two kinds of high-performance composite leak plugging repair casing systems with special nanofiber composite materials as the main body and epoxy resin as the base material. At the same time, a test and evaluation device for sealing pressure resistance of casing repairing reinforcement agent and a series of construction devices for high performance casing repairing agent were invented.Finally, a set of construction technology of high strength and low intrusion casing repair agent is formed, which has little safety risk and simple process, and has achieved good application effect in oil and
gas field.
Main Application and Technical Principal:
This project aims at the problems of casing damage and production reduction caused by poor cementing and completion quality, wire connection leakage, corrosion and casing wear in the long-term development of oil and gas fields. A scraping tool for the construction of high strength and low intrusion casing repair agent and casing repair reinforcement agent, casing efficient cleaner and casing repair agent construction process supporting construction equipment are developed to ensure the wellbore clean and smooth, and improve the construction efficiency and safety of casing leakage repair agent. A complete set of casing plugging repair technology system has been constructed to realize high strength, low intrusion and low cost casing leakage repair in oil and gas Wells. Compared with the prior art, it has the advantages of high cementation strength, good compression resistance, low invasion, corrosion resistance and no
shrinkage.
Disclaimer: The above content was edited by Energy China Forum (www.energychinaforum.com), please contact ECF before reproduce.