Honghua Group LimitedEstablished:2007-06-15

http://www.hh-gltd.com/

China's sichuan province jinniu district information garden east road no. 99
| Registered Capital | Employees | Enterprise Nature | Company Type | Main Business | Contact Name | Contact Email or Phone Number |
| --- | --- | --- | --- | --- | --- | --- |
| 1,000,000,000 HKD | 1-100 | Corporation | Energy Equipment Manufacturer | A large-scale equipment manufacturer and drilling service provider. | Mr. He | 00852-25205533, shareholder@hhcp.com.cn |
Company Profile
Honghua Group Limited is a large-scale equipment manufacturer and drilling service provider, specializing in research, design, manufacture, and set-assembly of drilling rigs, offshore engineering, and oil & gas exploitation and production equipments. It is the biggest exporter of drilling rigs in China, and one of the largest land drilling rig manufacturers in the world.
Launched its IPO in March 2008, Honghua (HKEx 0196) became the first drilling rig manufacturer of China to go public. Headquartered in Chengdu, Sichuan, Honghua Group has positioned its land and offshore equipment manufacturing bases in Guanghan, Sichuan and Qidong, Jiangsu respectively; the group also operates through more than ten subsidiaries and agencies with four ancillary and maintenance service centers.
Organization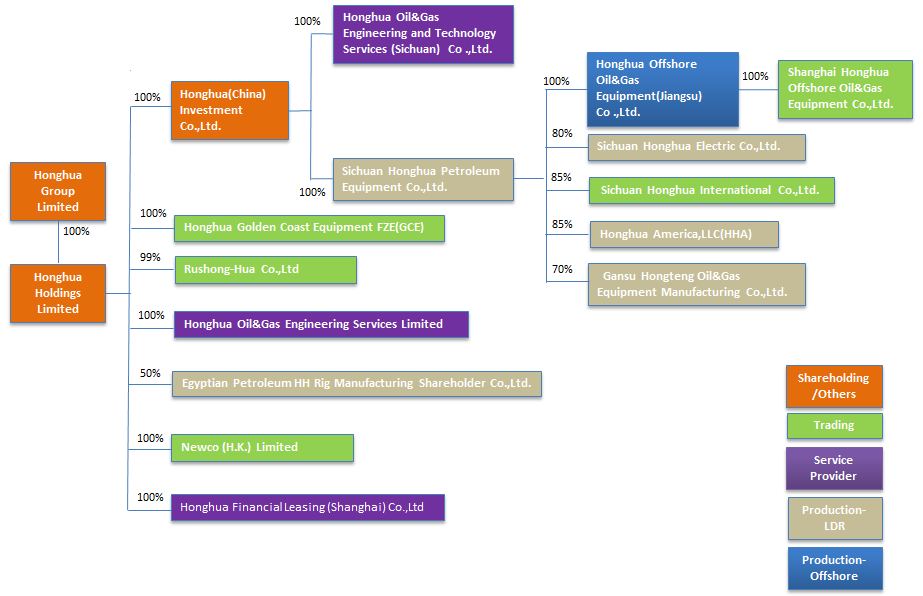 Business Overview
Based upon current competitive advantages of land drilling rig manufacturing, Honghua is uting relevant diversification development strategy, expanding into offshore equipment manufacturing, key ancillary fabrication, oil & gas engineering services, oil & gas exploitation and production (especially unconventional gas), and so on. Honghua is endeavoring to realize maximum synergy of the interrelationship among the three crucial segments focused on energy: equipment manufacturing, resource E&P, and engineering services. Simultaneously making use of sales network and channels globally, Honghua markets a broad range of businesses, comprised of land drilling rigs, spare parts, offshore equipment, non-drilling products, non-oil products, outsourcing, labor service exporting, etc.
Manufacture of Land Drilling Equipments
Honghua is dedicating in design and manufacture of 1,000m-12,000m multiple drive mode products in nine groups, including complete sets of land drilling rigs, offshore drilling packages, top drives, 500-2,200HP mud pumps, and other more than 50 categories, over 1000 types oil drilling equipment and ancillaries.
Honghua has the global leading welding workshops, assembly workshops, forging workshops, and the largest rig-up yard throughout the world. Honghua has a capacity of manufacturing 120 drilling rigs and 500 mud pumps per year.
Manufacture of Offshore Equipments
Honghua Offshore is among the mere few that are armed with EPC capabilities in the world. We design and build jack-up, semi-submersible, fixed platform, and SPAR offshore drilling platforms. Guided by the innovative concept "Offshore platforms can be built onshore", the offshore equipment building base will achieve digital manufacture, digital workflow management, ground assembling, ground outfitting, and integral lifting and launching, hence shortening the duration and curtailing the costs of platform building. Meanwhile, Honghua distinguishes itself by designing in an integrated way of the functioning equipments, navigation and anchor system, electric and dynamic modules, and platform bodies.
Oil & Gas Engineering Services
DRILLING SERVICES
Oil and gas wells with the depth over 6000m
Air and foam drilling
Underbalanced drilling
Under balanced drilling (UBD)
Horizontal/Vertical drilling
Horizontal/Directional drilling
High H2S Wells
OTHER DRILLING SERVICES
Cementing
High density mud engineering services
Casing running
Surface testing
Completion services
Workovers
VAULE-ADDED SERVICES
Drilling camp construction and operation
Rig Moving Services
Resources E&P
Supported by new gears and technologies specialized in shale gas E&P such as super single drilling rig, 6000HP fracturing pumps, flexible water tanks and so on, Honghua will implement a new mode for shale gas development that guided by "Exploiting gas by using gas; simultaneously producing gas and electricity; supported by distribution network; scale industrialized production; comprehensive utilization", realizing highly efficient and cost-effective development and comprehensive utilization.
Geophysical Services
The main business of HONGHUA geophysical includes onshore seismic data acquisition, processing and interpretation. HONGHUA is dedicating in conducting and providing qualified, efficient and safe seismic services for all customers in a wide variety of terrain conditions, such as mountain, jungle, desert, Gobi etc.
Disclaimer: The above content was edited by Energy China Forum (www.energychinaforum.com), please contact ECF before reproduce.